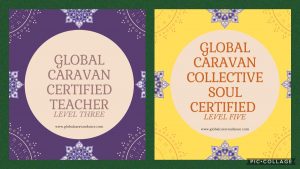 Global Caravan Tribal Style Bellydance is a form of movement which is improvised in a group around a set of pre-learned steps, movements and combos using non-verbal language to signal the changes.  By taking turns to lead and follow and really watching the leader, the group moves as one being, one tribe, one formation of beauty and expression.
Catherine is teaching 2 hour classes on Saturday afternoons.  Please get in touch for details as there are limited places for these classes in Pinnacle Pilates Studio, 64 Albert St, Whitianga for $10 plus donations a time. It is a chance to dance following simple combinations and to or to develop these into flowing formations with the group and extending into various dance accessories (veils, canes, fans, big skirts…) to the wonderful music. New dancers are always welcome to come and enjoy – no pressure nor judgement. A safe space to get away from everything else!
Some of the steps date back to ancient times of women's dance in India, Middle Eastern and African countries, some are inspired by Flamenco and some are more modern expressions of the beauty of this tribe.
It is a wonderful, organic, symmetrical form of tribal style belly dance and was developed by Paulette Rees-Denis from Portland, Oregon, who has spread the knowledge and teaching of GCTB around the world so that it is an international language of movement – GCTB dancers who have never met before may lead and follow each other doing the same movements and combinations of steps without even having to say a word to each other.  Inspiring!
Catherine can teach classes in belly dance or folk dance, private lessons and courses from Level 1 – 3 of Global Caravan Tribal Bellydance in New Zealand.   Join her and immerse yourself in the dance which celebrates womanhood (men do attend and are welcome too), tones and strengthens abs and your whole body whilst giving a fun way to escape everyday cares.  Get in touch via smile@catherinecorcoran.com for details of current classes or to book Catherine for classes.